Whistleblower claims Bradford school pupils left 'at risk'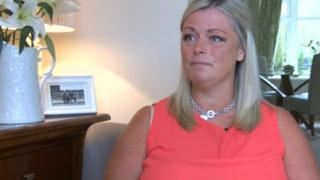 A whistleblower has warned vulnerable pupils at a Bradford school will be left exposed to abuse without more investment in child protection.
Nicola Tordoff said supporting more than 200 students with child protection issues at Tong High School left her "at breaking point".
She left her job in June, saying it was "a matter of luck" there had been no serious incidents.
The school said her concerns had been "considered and dealt with".
Internal documents seen by the BBC revealed the number of children at the 1,600-pupil school referred to local social services had more than doubled in a two-year period.
'Ticking boxes'
In the winter term of 2015-16 the school referred 26 pupils to children's services compared to 10 in the same period in 2013-14. A small number were at risk of sexual abuse.
Mrs Tordoff was the lead child protection officer at the school and worked with a deputy.
She said the stress of feeling unable to safeguard at-risk children led to periods of illness and sick leave after working 60-hour weeks.
"Just before I left it felt like ticking a box was OK and, as long as we were complying with Ofsted, everything was fine.
"Child protection though is not about ticking boxes. I believe it is more luck than management that something hasn't happened to a young person," she added.
In a statement, the school said it was unable to comment due to legal proceedings brought by Mrs Tordoff over her treatment while in the role.
However it added: "We can confirm Nicola Tordoff wrote to the school and the matters outlined in her letter were considered and immediately dealt with appropriately by the management and the governing body."
Following her resignation, Mrs Tordoff sent a letter to Bradford Council, the school and the Tauheedul Education Trust, which will take over when it turns into an academy in September.
She called for more staff to be immediately involved in ensuring the safety of children and wrote: "I would urge you to prioritise safeguarding and child protection without the need for a tragedy to happen before doing so."
Safeguarding 'paramount'
She told the BBC she felt "angry and ignored" by the council, who she claims did not respond. Bradford Council did not confirm whether it had replied to the letter.
A council spokesman said: "Safeguarding of the district's children and young people is paramount.
"It is really important that schools implement their own policies and practices around child protection and safeguarding.
"All schools are challenged and held to account by the local authority and Ofsted with regards their safeguarding obligations."
The trust has taken steps to train extra members of staff at the school.
The last full Ofsted inspection of the school in 2015 found its safeguarding measures were "robust and thorough".