Horse attacked at disabled riding centre in Bristol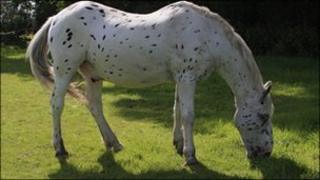 A horse has been attacked for the second time at a disabled riding centre in Bristol.
The animal was targeted most recently on 22 August at the Avon Riding Centre for the Disabled.
The attack took place between 0830 and 0915 BST when the 31-year-old Appaloosa gelding was in a field with other horses.
The first incident happened during the night on the weekend of 3 and 4 July.
Kevin Hateley, from the riding centre in Henbury, said the first attack was more serious and the horse, known as Olly, suffered bad internal injuries.
He said: "This attack is beyond my comprehension. Everybody here is very angry and upset.
"Olly does a wonderful job with our riders and is such a popular horse."
Police are appealing for anyone with information to contact them.