Woman injured in Spanish hotel blast wakes from coma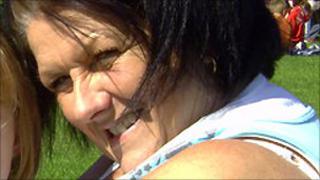 A woman, from Weston-super-Mare, who was seriously injured in a hotel explosion on Spain's Costa del Sol has woken after being in a coma for a week.
Carol Gardener had to have brain surgery after the Hotel Globales Cortijo Blanco exploded as she walked past with her family on 23 August.
Her sister Julie Loud suffered leg lacerations. She is back in the UK.
Mrs Gardener, 53, remains in a Malaga hospital and doctors do not know when she will be well enough to return home.
The cause of the explosion is still being investigated.
Mrs Gardener's brother-in-law Andrew Loud said: "The doctors said it might be a couple of days before she speaks. She still has tubes in her throat.
"Every day is a small improvement. It's just a complete freak accident. We'd walked past that point on Saturday and on Sunday.
'Full impact'
"We've walked past there over the years with our children when they were small. It came from nowhere.
"No warning - no nothing - just boom that was it."
Mrs Gardener and her sister and their husbands were walking past the hotel last week at about 1000 local time (0900 BST) when the side of the building blew off.
Witnesses said the women took the full impact of the blast. Carol Gardener suffered a fractured skull and her sister, Julie Loud, had to have 20 stitches in her legs.
The men were walking a few metres ahead and were treated for minor injuries.