Great Western train line electrification is put on hold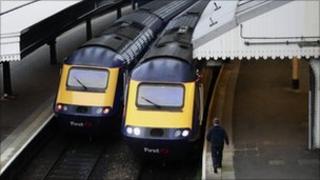 First Great Western (FGW) says it is disappointed by a decision to put electrification of the London to Swansea railway line on hold.
The government says it could be the end of the decade before any investment is complete on the route.
But FGW said it would be "putting the case" to the Department for Transport.
"It's clear that we and our customers will be disappointed that we don't know more about the implications for the South West," said an FGW spokesman.
The government has announced £8bn of upgrades elsewhere in the country but the South West missed out.
Chris Irwin from Travelwatch South West said the lack of investment in the line meant the area suffered from the use of older, less reliable trains.
"We know we are the oldest train fleet in Britain and you can't run a reliable train service if you've got a 35-year-old train set.
"They just aren't going to be anywhere near as good as newer trains."
Ian Crawford, from campaign group the Greater Bristol Alliance, said he was "not surprised" at the news.
"I'm an optimist but I'm very disappointed in the announcement because Bristol desperately needs electrification."