Four arrests over fake sportswear at Bristol market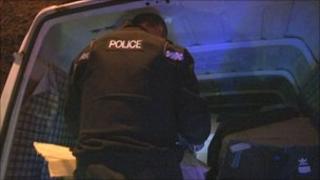 Four men have been arrested after police stopped two vans that were carrying fake designer goods with a street value of about £90,000.
In a multi-agency operation the vehicles were pulled over on the M32 in Bristol.
Officers found counterfeit sportswear including items purporting to be Adidas, Nike and Ralph Lauren.
It is believed they were heading for the Sunday market at the Bristol Fruit Market.
The men were released on police bail, pending further inquiries.
The operation was led by members of the South West Scambusters team, made up of police and Trading Standards officers.
The team suspect a small number of traders are travelling hundreds of miles to the market to sell fake goods.
Stephen Meale, from Bristol Trading Standards, said counterfeit products could help fund other crimes including drug dealing, people trafficking, and prostitution.
It also affected the livelihood of legitimate traders, he added.
"In some circumstances, such as alcohol or toys, fake products pose a serious hazard to health, and when shopping for fakes online consumers are putting themselves at increased risk of identity theft," said Mr Meale.