Officers diverted to help with Bristol student protests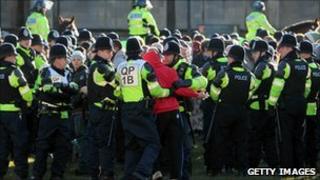 Police officers in Bristol are being diverted from other jobs to deal with a series of student protests in the city.
The biggest demonstration saw more than 2,000 students march in Bristol over plans to raise university tuition fees.
Supt Ian Wylie said: "Clearly we are having to divert from other activities."
He refused to disclose how much policing the protests had cost, saying Avon and Somerset Constabulary did not discuss operational policing funding.
A spokesman added that day-to-day policing - such as responding to 999 calls - had not been affected.
The first of the protests took place on 24 November with further demonstrations taking place on 2 December, 3 December and 5 December.
Supt Wylie said the numbers of officers involved had been to ensure that the demonstrations did not get out of hand.
"What we try to do is put a proportionate response into where the demonstrators are to ensure their safety, to ensure the safety of other residents and people going about their business.
"We do want to allow them to march through the city, but what we can't have is over 1,000 people making their own decisions to run amok around the city."
One protest organiser, Gus Baker, said: "It's important that police allow students their democratic right to protest."