Get your fix of local music with BBC Introducing in Bristol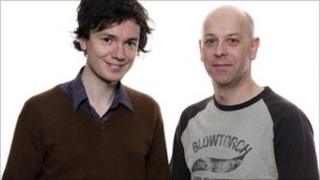 If you want to hear the best in new, local music then you need to tune into BBC Introducing in Bristol.
The show, presented by Richard Pitt and Sam Bonham, explores alternative music with a focus on local bands and gigs,
As part of the BBC Introducing Network, Richard and Sam are helping spread the word about great Bristol acts.
The show has already provided BBC Radio 1 with a number of features on Bristol's music scene and helped get local bands played on the station.
The show features guests and specially recorded sessions, interviews with some of the bigger named bands playing in the area, plus a lot of locally-made music - and you'll get recommendations for gigs in the week ahead.
Listen to the show
For details of up-coming programmes or to listen again via the iPlayer click here.
Get music on the show
Send CDs to BBC Introducing in Bristol, PO Box 194, Bristol, BS99 7QT
E-mail MP3s to intro.bristol@bbc.co.uk
Or send your tracks via the BBC Introducing Uploader
They can't play everything but if you send it they will listen, and if they love it, they'll play it.
Get involved with the show. Recommend records, artists, gigs, and events using the email address above, or visit the sites below.
We're on twitter as bbcbristolintro, and on Facebook.