Bath bat project receives £10,000 lottery funding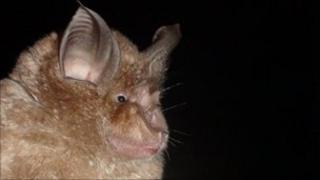 A project to track bats in Bath has been awarded £10,000 in lottery funds.
The area is already recognised as a hotspot for the nocturnal animal but now their movements and numbers will be monitored more closely.
The Bats for Bath project, launching in May, will also encourage families to get involved in events like bat walks.
The money is from the Big Lottery Fund's Community Wildlife programme, which aims to improve and protect the natural environment.
Steve Micklewright, from the Avon Wildlife Trust, said Bath's historical stone buildings were crucial to the future of the city's bats.
"Bath is a Unesco World Heritage site because of its buildings and all that lovely Bath stone has been quarried from the surrounding hillsides," he said.
"That means that those old quarries are now fantastic bat caves.
"These very, very rare greater horseshoe bats hibernate in those caves in the winter time and use them in the summer as places to breed their young.
"It's really great for people to make the link between Bath's heritage and its nature, so we pitched [the bid] as that sort of project and the lottery seemed to really like it."
Other groups to also benefit from the Community Wildlife programme include Hutton Parish Council in North Somerset, which received £9,986 to provide a nature reserve within their local park.
Wheatfield Primary School in Bradley Stoke, South Gloucestershire, was awarded £9,450 to improve wildlife areas at the school.
In Bristol, Lawrence Weston Community Farm received £7,285 to help disadvantaged and isolated local people create a new community wildlife garden.
"These are all fantastic projects. I am sure they will really inspire people to get outdoors and enjoying nature," said Mark Cotton, from the Big Lottery Fund.