Artists use Edwardian Bristol toilet block for show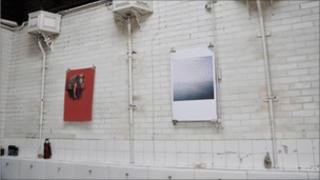 An Edwardian toilet block in the centre of Bristol has become an unlikely venue for an art exhibition.
The cloakrooms on Park Row were built in 1904 and still contain the original porcelain and tiling.
The space includes the former gents' toilets which are about 7m (22ft) long, a smaller women's toilet room and an attendant's room.
One of the organisers, Sarah Bustamante-Brauning, said the choice of location was "perfect".
"The main reason was to put on the show there is because it is such an excellent space and they wanted to allow the public access to it," she said.
"The walls are white tiles and it's a great background to display work. It's all beautifully designed.
"In the female toilets there is dark wood that looks like frames and having all cubicles helps compartmentalise it all."
On the first day of opening the organisers said about 80 people visited, with 40 coming the following day.