Lonely Tourist Paul Tierney's success in Bristol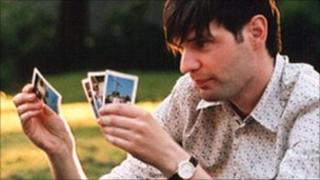 Originally from Glasgow, folk-hipster Paul Tierney has been playing in bands throughout his adult life.
But only since moving to Bristol two years ago, in order to be nearer his girlfriend, has his music really taken shape, in the form of Lonely Tourist.
It's been an exciting time for Paul, visiting the vast array of Bristol venues for the first time.
"I've played in pubs all over the city," he said. "You can play every night of the week if you want.
"Being an acoustic act means you can do a lot more than you could with a band."
And being part of such a vibrant and eclectic music scene has meant that Paul has been able to develop his music further.
The recently-released Sir, I'm a Good Man is Lonely Tourist's debut album but Paul is impatient to move on.
"I want to start recording another album before the end of the year," Paul said.
"I've started writing it already."
Lonely Tourist has been a favourite on BBC Introducing in Bristol since last summer and Paul has already chalked up one session this year.
Now, Paul's single Patron Saint Procrastinate has been picked to feature on the daytime playlist on BBC Radio Bristol throughout March.
Each month, the station picks two tracks by local artists as part of its commitment to supporting bands based in and around Bristol.
The single has also been played on BBC Radio 2 and 6 Music.
"It's really important for me to get on the radio," said Paul.
"BBC Introducing in Bristol have been supportive since the start.
"It's great that people who must hear a lot of music play you on the radio and give you a session too.
"It gives you confidence that what you're doing is actually quite good."
Listen to BBC Radio Bristol throughout March to hear Lonely Tourist, or for more information visit Paul's Myspace site.