Bristol Free School and council agree to meet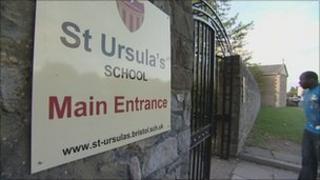 A group which is trying to set up an academy-style school in Bristol is to meet the council after saying they had become "frustrated" with them.
The Bristol Free School wants to use the former St Ursula's School site to run a secondary school.
In a statement it said attempts to hold meetings with Bristol City Council have been "turned down or ignored".
An open meeting was held on Wednesday which attracted more than 100 parents to discuss the plans.
The Free School had planned to use St Ursula's School, which is currently occupied by a primary academy, on a short-term lease.
Bid changed
Originally the group behind the plan, Parents Voice, wanted to run an all-through school with ages from four to 16 but the council only wanted a primary school.
When the funding bid was sent to the government in February the school director, Nick Short, said the bid was changed to secondary only because the council wanted to keep them separate.
But Councillor Claire Campion Smith, the Liberal Democrat in charge of education at Bristol City Council, said it was "always the case" that the council was open to an all-through school.
"There are some people who didn't appear to be recognising the really urgent need that we have for primary spaces.
"We have been emphasising that what is in our control is the primary spaces and we've got to push forward on those for September but there is no reason we can't have both on the site."