Review is sought of Stokes Croft Tesco decision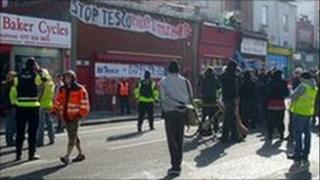 Opponents of a new Tesco Express store in Stokes Croft, Bristol, are to seek a judicial review over the decision to grant it planning permission.
Councillors approved plans for the shop despite protests from local residents in February 2010.
They say the council "failed to follow proper procedure" when granting permission for the shop.
A Bristol City Council spokesman said they had not yet received any notification of the review.
The campaigners say the council disregarded safety issues surrounding deliveries which were not considered in the planning process.
Rachel Bibb, who is one of the residents seeking the review, said the council was also worried about the financial implications of an appeal.
Highway claim
"We believe their negligence was driven by the council's financial fear that if permission were refused Tesco would almost certainly appeal (against) the decision."
The opponents claim that the store would receive 40 deliveries a week and would block the highway for up to 28 hours a week.
Another protestor, Claire Milne, said that the paperwork was submitted in the past few days and was within the three-month deadline to appeal against the decision.
Tesco said there would be about three to five delivery lorries a day at the store.
The firm added it was continuing with its plans to open the store in April.