Bristol cancer lie woman jailed for fraud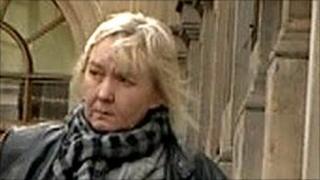 A police civilian worker who lied to friends and colleagues by telling them she was dying of liver cancer has been jailed for 15 months for fraud.
Workmates set up a fund for Nicola Williams, 45, of Withywood, Bristol, when she told them she needed to pay for drugs to combat the disease.
In total, the mother-of-three obtained £36,000 by fraud and deception.
Jailing her, Judge Mark Horton told Williams: "Your lies were premeditated, detailed and deliberate."
Bristol Crown Court heard that Williams' deceit began after 2002, when she joined Avon and Somerset Constabulary as a civilian worker in the communications department.
Prosecutor Julian Howells told the court that Williams was "a popular member of staff" who was "trusted and valued by colleagues".
But Williams, who had falsely claimed to have survived kidney cancer, told her shocked workmates that the cancer had returned and spread to her liver.
Promotional DVD
Using online research, she claimed that she needed £700 a month for a drug that was not provided free by the NHS.
A Friends of Nicola Williams Fund was set up and a variety of fund-raising events were held, including raffles, charity auctions and even a ball at police headquarters.
A cancer charity matched her friends' fundraising efforts over four years.
The Police Benevolent Fund also paid more than £26,000 to Williams, who was featured in a promotional DVD for the charity.
The court heard she also took 14 days sick leave between 2006 and 2009 due to "cancer treatment".
The con came to an end in 2010 when suspicious colleagues contacted Williams' GP.
Defence counsel Stephen Mooney said his client, who suffers from spina bifida, was "riven with shame for what she'd done and the way she'd abused people's goodwill".
Williams admitted three counts of obtaining property by deception and three counts of fraud.
'Betrayal of trust'
Judge Horton told her: "The charitable intent and goodwill of this society is probably second-to-none in the world.
"You both targeted and abused that goodwill.
"Friends and employers bent over backwards to make sure your every whim was met."
Speaking after the case, Ch Supt David Hayler, secretary of Avon and Somerset Police Benevolent Fund, said: "These crimes represent a sad and very disappointing betrayal of trust, and do not demonstrate the high level of professionalism and integrity that we expect from our staff."