Woman's skeleton found on derelict land in Avonmouth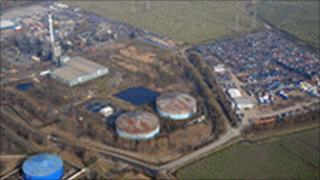 A woman's skeleton has been found on industrial land near Bristol.
Her remains were discovered during work to clear overgrown land off Hallen Road in Avonmouth on Monday morning.
Police said they did not know how she died and that no efforts had been made to conceal her body, which was covered only because the site was overgrown.
Tests showed the woman's remains could have been there for up to eight years. Police said they had an open mind about whether a murder inquiry would begin.
An Avon and Somerset Police spokesman said the remains were found near two large crude oil tanks.
'Fully clothed'
The land, the former home of Sevalco Limited, is now owned by Viridor and is subject to a planning application for a recycling centre. It has been disused since 2007.
Det Ch Insp Simon Crisp, who is leading the investigation, said: "We believe she was fully clothed and there were no indications that any attempts had been made to bury or conceal her, other than the fact that the site itself has become overgrown during the past few years.
"A post-mortem examination has taken place but at this time the identity of the woman remains a mystery and there is no obvious indication of her cause of death.
"Therefore I have to keep a completely open mind about whether or not this could develop into a murder investigation."
He said detectives were awaiting the results of more forensic tests.
Det Ch Insp Crisp said the woman was likely to be white, or possibly mixed race, probably aged between 30 and 45, about 5ft 3in tall and of medium build.
He said officers had found some clothing including a fleece jacket and training shoes, and asked anyone who recognises them, or thinks they have any other information, to contact the force.