Oldbury wind farm application is rejected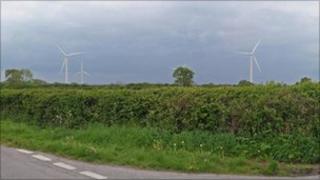 A proposed wind farm near Oldbury power station in South Gloucestershire has been rejected by councillors.
Planners had backed the Stoneyard Lane scheme, off Hill Lane, north of Bristol, but councillors rejected it.
The application had prompted complaints and one resident described it as "grossly out of proportion" with the surroundings.
Wind Prospect Developments said the 10-megawatt site would generate enough power for 5,500 homes every year.
The firm had proposed four turbines which would have been 127m (416ft) high and one 80m (262ft) mast alongside them.
Planners at South Gloucestershire Council had said that the environmental benefits of building the turbines "outweighed" the impact from "noise, flicker and visual intrusion".
But councillors disagreed, saying the impact on the landscape would be too great.
Sophie Nioche, from Wind Prospect, said the firm was "very disappointed" with the decision.
"We will examine the report from the planning committee once it is published by the council next week and make a decision on whether to appeal following that," she said.
"When finding wind farm sites, there are many factors that need to be taken into account, such as distances from houses, wind speed and access to the site.
"We believe that Stoneyard Lane is one of very few sites in South Gloucestershire that meets all these criteria for large scale wind turbines."