Two children killed in Bristol house fire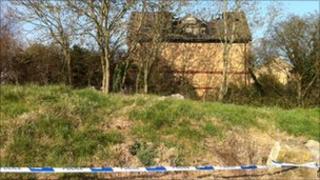 Two young children have been found dead after a severe house fire in the Bradley Stoke area of Bristol.
Firefighters were called to the end-of-terrace property in Merryweather Close at 0630 GMT.
A fire service spokesman said two adults and three children escaped from the house before crews arrived.
But he said the bodies of two boys, both aged under 10, were discovered on the first floor. The cause of the fire is being investigated.
Beverley Cockram, who said she was godmother to one of the youngsters, said one of the surviving children had jumped from a first-floor window.
She said: "I jumped up and tried to get them out, but it was too hot. It was melting. I couldn't get him."
'Worst fire'
William Roberts, group manager at Avon Fire and Rescue Service, said: "When crews arrived, the fire was fully developed and engulfing the first floor and roof space.
"Sadly, when crews entered the building they found the children. They were both upstairs, one in back bedroom, one in front.
"It is a sad day for the Bradley Stoke community and Avon fire.
"The ceiling has fallen in on itself and on top of our evidence.
"This is probably the worst fire I've seen in my 32 years."
He said smoke alarms were fitted at the house, but it was not yet known if they were in working order because the damage to the property was "so extensive".
Three crews attended and four firefighters wearing breathing apparatus tackled the fire in the three-bedroom house using two jets.
A spokeswoman for Avon and Somerset Police said they were working with fire investigators to establish the cause.
She said they were waiting for engineers to make the building structurally safe before going inside.
Local priest, the Reverend Tom Webber, said: "Like everybody else we're in state of shock.
"Over next few days we will be looking to support them. Our prayers will be with them."