Bristol house fire that killed two boys investigated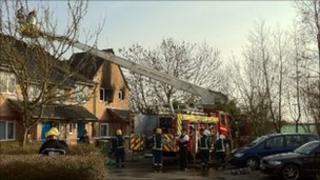 An investigation into the cause of a Bristol house fire which killed two young boys is continuing.
The pair, both aged under 10, were found in separate bedrooms of the house in Merryweather Close, Bradley Stoke.
Home Group, which owns the property, said it had rehoused the parents and three other children who escaped.
The company said they had also temporarily rehomed people living in neighbouring properties damaged by the fire on Saturday morning.
Firefighters had been called to the end-of-terrace house at 0630 GMT.
The flames were already engulfing the first floor and roof space when they arrived.
'Shock and sadness'
Police and fire investigators were unable to enter the house to begin their investigation until it was made structurally safe by engineers.
A spokesman for Avon Fire and Rescue Service said: "We will be continuing our investigation throughout the day today."
Jonathan Ray, spokesman for Home Group, said: "We share the local community's sense of great shock and sadness."
He said: "Our immediate priority is to do all we can to help our customers through this ordeal, and to give every possible assistance to the emergency services and local authority.
"We have arranged alternative accommodation for those directly affected by the blaze, and have secured temporary re-housing for people whose neighbouring properties were damaged.
"We will continue to work at a rapid pace to get our customers, where possible and where it is appropriate, back into their homes."
Mr Ray added: "The fire service is currently investigating this incident and we have put hoardings into place while officers carry out their work.
"This is to allow them to carry out their enquiries more effectively, but also to keep the community safe whilst property is damaged.
"It is too early to say how the fire started, which at this stage it is a matter for the emergency services.
"Home Group appreciates the closeness and support of the community at such a difficult time, and of course, above all, our thoughts are with the families affected."