Cabot Tower due to reopen by late summer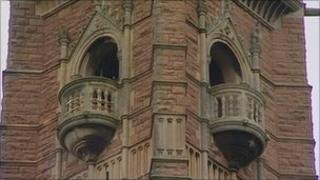 A tower in Bristol built to commemorate the 400th anniversary of John Cabot's voyage to America could be reopened by late summer.
Cabot Tower has been closed to the public since 2007 when cracks appeared in the stonework around the observation galleries at the top of the structure.
An investigation revealed ironwork in the tower had become badly corroded.
Repairs to the tower will cost £420,000 with about half of the funding coming from English Heritage.
'Significant landmark'
Specialist scaffolding which does not fix to the stonework of the structure has been erected around the tower ahead of repair work beginning.
Bristol City Council said the programme of work would take about four months.
Andrew Vines, from English Heritage, said the restoration would be the start of a "new lease of life" for Cabot Tower.
"As one of Bristol's best-loved and most significant landmarks, Cabot Tower provides an important link to the city's maritime past.
"The substantial funding from English Heritage means that the urgent repairs and conservation work now can get under way in earnest.
"I look forward to seeing it reopen later in the summer after this is completed, when residents and visitors will be able to once again climb to the top of this Grade ll listed building."