Call to 'build up or knock down' Tropicana attraction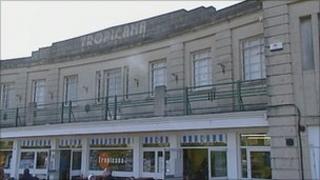 Weston-super-Mare MP John Penrose says the derelict Tropicana seafront swimming pool should either be "built up or knocked down".
The building, which enjoyed its heyday in the 1960s, has been empty since 2000 and several attempts have been made to develop the site.
The latest bid failed when developer Richard Nightingale pulled out after proposing a ocean liner-style building.
Mr Penrose added residents were "fed up of waiting" for a solution.
Since the Tropicana closed, developers Mace, Henry Boot and Mr Nightingale have all failed to carry out any proposed developments at the site.
Fallen over
"We've got to crunch time for the Tropicana - we've been here before," Mr Penrose said.
"We've had three or four successive projects organised by the council over the years from all sorts of political parties and they all, for one reason or another, have fallen over.
"And now we've got to the point with the Tropicana that we've either got to build it up or knock it down."
North Somerset Council said it did not want to respond directly to Mr Penrose's comments.
It said it was disappointed that talks over the latest scheme proposed by Richard Nightingale had fallen through.