Bristol fire deaths: Mckenzie and Charlie Whitton named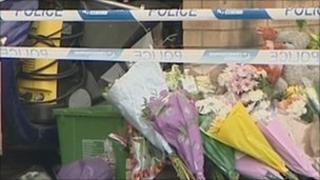 Two children who died in a house fire in Bristol have been named as Mckenzie and Charlie Whitton.
The pair, both aged under 10, were found in the house on Merryweather Close, Bradley Stoke, in the fire on Saturday morning.
The two parents of the brothers as well as three other children escaped from the blaze.
Efforts continued during the weekend to make the house structurally secure after the roof collapsed.
Richard Clark, the head teacher of Stoke Lodge Primary School, which both boys attended, paid tribute to the brothers.
"Our staff at Stoke Lodge Primary School are deeply saddened by the loss of Charlie, who was a pupil at our school and Mckenzie, who recently moved schools.
"They were very dear to us and much loved.
"They brought us a lot of joy and happiness and were such a pleasure to teach and care for.
"Our thoughts, love and support are with the family, our children and for the community that we serve."