Closure of Bath's Culverhay school examined by council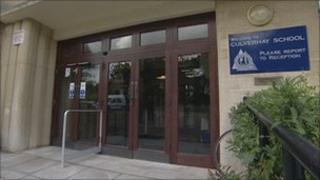 A council scrutiny panel has referred a decision to close Culverhay School in Bath to a full council meeting.
The boys' school is to close to further admissions to Year 7 from September 2012 as part of a reorganisation of education in the city.
The council voted to close Culverhay but the final decision rested with Conservative councillor Chris Watt.
His decision was examined by a scrutiny panel after 18 councillors expressed concerns.
After considering the evidence the panel voted to refer the matter to the full council.
Councillor Watt's decision will be scrutinised to check it was made using the correct evidence and procedures.
The review could either result in a recommendation to implement the decision or a request for Mr Watt to reconsider.
The full council, however, has no power to change the resolution.
Several suggestions were made about how to keep the school open, including introducing girls to increase student numbers or reducing admission numbers at other schools in Bath to boost Culverhay.
But Mr Watt decided no further admissions should happen at Culverhay School from September 2012 and that the school should close in August 2014.
The council said closing Culverhay would allow the authority to reinvest £1.75m in supporting other schools.