Bristol M5 footbridge opens to public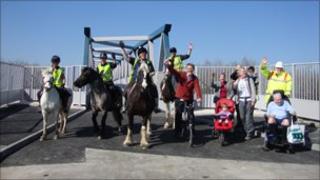 A new footbridge over the M5 at Lawrence Weston in Bristol is opening to the public.
The bridge is a replacement for another which was demolished in 2009 following several collisions with high vehicles.
The route will give walkers a safe route to travel between Lawrence Weston and areas such as Avonmouth.
The new bridge was manufactured in three sections and was lifted into place in February.
The bridge was a joint project between the Highways Agency and Bristol City Council and is suitable for use by "all non-motorised users".
Dave Frampton, from the Highways Agency, said he was happy with how the project went.
"We are delighted to have worked on this important joint venture with Bristol City Council and are pleased the installation has been achieved with a minimum of disruption," he said.