Bristol's Bridge Valley Road repairs delayed again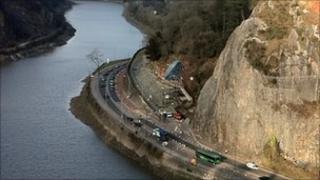 The opening of a busy commuter route in Bristol which has been closed since March 2010 has been delayed again.
Bristol City Council had said Bridge Valley Road, which links the zoo to the Portway, would reopen in June.
But the repairs have been delayed again and the road is now unlikely to open before the autumn.
The road is undergoing £2m of repairs, including pinning the rock face using bars to stop a retaining wall from crumbling.
Alan Owen, Bristol City Council's project manager, said: "This is a complicated piece of work and this needs to be done in a manner that we only do this once.
"It's also got to be done very delicately as there are real health and safety issues and we have to make sure it's done properly."
Mr Owen added that as well as the retaining wall a tunnel beneath the road also needed filling.
Mr Owen said: "As we've done further research our consultants do further work and they have found further movement.
"We can't ignore that work and these things take time."