South Gloucestershire school unveils new wind turbine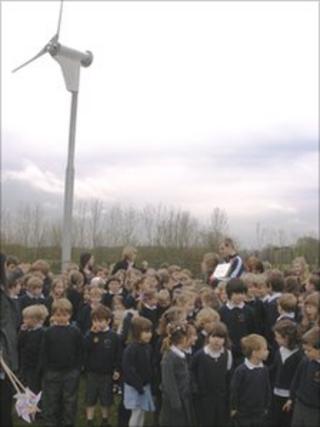 A South Gloucestershire school is planning to sell energy back to the National Grid after installing a 12kW wind turbine.
The £52,000-turbine at Marshfield Primary School will generate 24,000 kWh of electricity every year, 50% of which the school actually needs.
It also aims to save more than £2,000 in electricity bills and reduce its carbon emissions by around 14 tonnes.
Head teacher Kay Pettifer said the turbine would also be educational.
She said she was pleased the culmination of four years of work had come to fruition.
"It will not only dramatically reduce the school's carbon emissions but will also act as an educational tool," she added.
"[It will] motivate our pupils and the local community to think about their impact on the environment and make a change."
Inspiring others
EDF Energy contributed £23,000 to the scheme, with a spokesman saying he was "proud" to support the project.
Team Bath Paralympian Ben Rushgrove was chosen to turn the wind turbine on for the first time.
The 23-year-old athlete said he hoped the project would "inspire others to do their bit for the environment."
Marshfield Primary School is the first school in the South Gloucestershire area to install a wind turbine.
The school has already installed energy efficient lighting and hot water timers. Staff said they also hoped to install solar panels in the future.
A transport plan is also in place to reduce the number of cars used by staff and pupils' families.