Red lights on Bristol road causes bus firm concern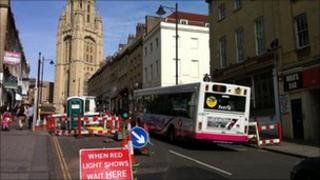 A bus firm has expressed concern about a set of temporary traffic lights on a busy road in Bristol which keep getting stuck on red.
Wales and West Utilities is carrying out gas main work on Park Street.
A statement from First Bus said it had "experienced some issues with these lights" which have broken down at least six times.
Wales and West said it "apologises for any inconvenience caused" but First said it was making buses late.
First, which has been fined in the past for late services, has complained to Bristol City Council but the authority said the problem was with Wales and West Utilities.
'Obvious impact'
Each time the lights break it also means motorists must make a diversion along neighbouring roads such as Park Row, which has also caused congestion problems.
The utility firm said engineers on the site were able to manually control the lights if there were long queues.
"However, it is not possible for one of our operatives to do this all day as it would divert manpower and potentially increase the length of the scheme."
The firm also blamed some motorists for driving through the lights on red and causing the "timing circuitry to malfunction and creating long delays as a result".
First Bus added "this is having an obvious impact on the punctuality of local bus services".
The work is expected to continue until Friday, 15 April before work moves to the junction of Park Street and Park Row for 10 days.