Girl swaps bed for shed to help homeless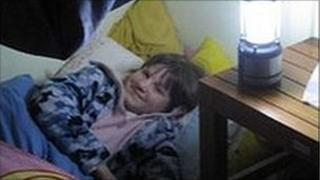 An 11-year-old girl from Bristol has given up the comforts of her bedroom to sleep in her garden shed during lent.
Rachel Moseley is camping out for 40 nights to raise money for the Bristol homeless charity, Crisis Centre Ministries.
So far she has raised more than half of her £500 target.
She said: "On the bus to school I sometimes see homeless people on the street and think how did they get there?"
Rachel's mother Angela said her daughter was really motivated towards raising money for the charity.
"Once she set herself the challenge she was determined to go through with it," she added.
Crisis Centre Ministries is a Christian-run charity, set up in Bristol in 1984, which helps homeless people and those suffering from addictions.
Jonathan Swithinbank, head of fundraising for the charity, said: "We are incredibly impressed Rachel, at 11, has such a keen awareness of the plight of homeless people in Bristol."
Rachel has slept in her garden shed every night since 9 March - except for a few nights when she was ill.
She plans to finish her sleep out on the night of Easter day.