Bristol University wants to charge maximum £9,000 fees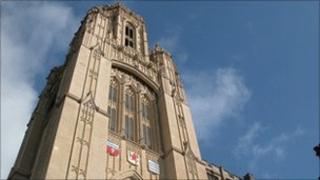 Bristol University is planning to charge students the maximum £9,000 yearly fee from 2012.
The move will mean students whose family income exceeds £25,000 per year will be charged the top rate.
But the university said those from poorer backgrounds would be charged less, with some paying only £3,500.
A hardship fund will also be increased to £350,000 per year to "safeguard students who may find themselves in financial difficulty".
A scheme which helps local people attend the university, called Access to Bristol, will also waive tuition fees for some students.
'Lost revenue'
A statement from the university said the increase in fees would substitute money which had been lost through cuts.
"Our calculations show that we would need to charge a fee in the region of £8,000 a year just to make up for the cuts in the core teaching grant and capital allocations.
"Our student support package described above will add a further £1,000 a year to this.
"Thus our decision to charge up to £9,000 per year does not represent a sudden or substantial increase in our funding; it merely substitutes lost revenue from other sources."
The proposed fees are subject to approval by the Office for Fair Access.
A number of other universities have already announced they intend to charge the full £9,000, while a BBC survey has found nearly half of all English universities plan to charge the highest figure.