Council complains over company's handling of tax calls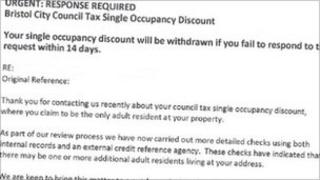 Staffing is to be increased at a call centre handling investigations into tax discounts after Bristol City Council said it was not coping.
Experian checked on people claiming single occupancy discount before the council sent letters to residents suspected of incorrectly claiming it.
They were told to telephone a number to discuss the issue but a call centre, run by another firm, struggled to cope.
An Experian spokesman said: "We're addressing the issues raised."
Martin Smith, from the council, said: "They have had a large number of calls coming through to their call centre which they were finding difficult to handle.
"That's unacceptable as far as Bristol City Council is concerned and we've lodged that complaint with them."
Council tax frozen
A spokesman for Experian said: "The contact phone line is offered via a third party which we contracted.
"More staff are being made available at peak times to handle inquiries. We are working closely with Bristol City Council to address this now."
About 68,000 people claim single occupancy discounts and the city council said it was investigating about 10,000 residents after claims were cross-checked.
The discount represents a drop of 25% on council tax bills and it is thought the exercise could bring in more than £1m.
The Liberal Democrat-controlled authority has to make £28m of savings - about 7% of its budget - in the next financial year.
About 340 posts, from a total of about 18,000, will go and council tax will be frozen.