Stokes Croft 'Tesco protest': Three appear in court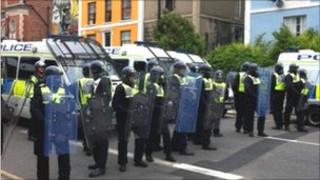 Three people have appeared in court charged with offences including violent disorder after protests in Bristol.
Stephen Carroll, 32, from Chaplin Road, Bristol, was charged with assaulting a police officer and damaging a police camera. He was released on bail by magistrates in Bristol.
Two 17-year-old boys, who cannot be named, were charged with violent disorder and theft. One was released on bail, the other remanded in custody.
They are due in court again on May 6.
No pleas were entered during the hearing on Saturday.
Night-time curfew
Mr Carroll, from the Easton area, was released on bail with the condition that he lives at his home address, does not enter the Stokes Croft area and adheres to a night-time curfew.
One of the 17-year-olds was charged with two counts of violent disorder - one on 22 April and one on 29 April. He was also charged with theft. He was remanded in custody.
The other 17-year-old, a schoolboy, was charged with violent disorder and theft. He was released on bail with the same conditions as Mr Carroll.
Later, police said a 26-year-old woman and a man, 20, had been arrested in connection with the disturbances.
Officers and protesters were injured early on Friday, after rocks and missiles were thrown during the protests, which had started peacefully in Cheltenham Road, at about 2000 BST on Thursday.
Thursday's protest came less than a week after demonstrations following the opening of a Tesco store in the area.
Avon and Somerset Police said they were determined to identify as many people involved as possible and have released CCTV images of more than 80 people they want to trace.
A police spokeswoman said: "Plain clothed and uniform officers are working around the clock to actively seek those involved in the incident and place them before the courts."