Lib Dems lose control of Bristol City Council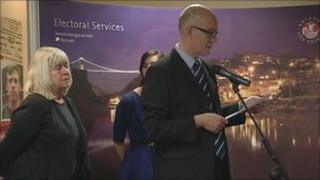 The Liberal Democrats have lost control of Bristol City Council, losing five of their 38 councillors.
The Lib Dems won control of the city council in June 2009 after it had been run by a minority administration since 2005.
Lib Dem leader Barbara Janke said: "It's obviously disastrous for us tonight."
Counting has not yet finished in North Somerset but the Conservatives have enough seats to retain control.
In Bristol, despite losing their overall majority the Lib Dems remain the largest party with 33 councillors. Labour have 21, the Conservatives 14 and the Green Party two.
South Gloucestershire Council still has no party in overall control but Labour gained six seats, the Tories gained one and the Lib Dems lost seven.
The new council consists of 34 Conservatives, 21 Lib Dems and 15 Labour members.
Bath and North East Somerset Council remains under no overall control with the Lib Dems gaining three seats and the Tories losing three.
The new council will consist of 29 Conservatives, 29 Lib Dems, five Labour and two independents.
All 61 seats at Conservative-led North Somerset Council have been up for election too.
The national alternative vote referendum has also taken place, the first nationwide referendum since 1975.
Voters were asked whether they wanted to replace the existing first-past-the-post system for electing MPs to Westminster with a method known as the alternative vote (AV). The result is expected later on Friday.