Shrien Dewani 'accused of sissy crime'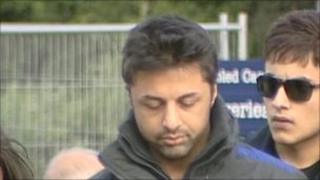 A man accused of ordering the killing of his wife on their honeymoon would be seen as having committed a "sissy crime" if jailed, a court has heard.
South African authorities want to extradite Shrien Dewani after his wife was shot dead in a taxi in Cape Town.
An expert told the extradition hearing at Belmarsh Magistrates' Court that Mr Dewani's wealth and looks could also count against him in prison.
But the authorities have suggested his high profile would protect him.
Mr Dewani, 31, of Westbury-on-Trym in Bristol, denies any wrongdoing. He is on bail but is being held at a mental health hospital in Bristol.
'Magnified with publicity'
Giving evidence to the court, Sasha Gear from Johannesburg's Centre for the Study of Violence and Reconciliation, said: "In the case of Mr Dewani, I'm positive that there's a potential for [his high profile] not to play such a protective role because of the extent to which it could highlight factors about Mr Dewani that indicate vulnerability.
"For example the type of crime he is alleged to have committed would be considered a sissy crime in the prison culture; also that he comes from a well-to-do background, what he looks like.
"These sort of things are magnified with publicity."
During the hearing, Mr Dewani's lawyer Clare Montgomery QC read out threatening comments directed towards her client on social networking websites in South Africa.
"Hostility is the overwhelming tenor of the social networking comments," Ms Montgomery said.
She also cited a comment made by the chief of the South African police labelling Dewani a "monkey" in December.
'Won't suffer'
Lawyer Hugo Keith QC, representing the South African authorities, named the case of another British national whose high profile had protected him when he was jailed in South Africa for murder.
The unnamed man was said to have claimed that press reporting of his crime "helped me", adding: "If you're known outside you won't suffer anything."
Anni Dewani, 28, from Sweden, was shot when a taxi the couple were travelling in was hijacked in the Gugulethu township in Cape Town last November.
Her body was later found in the abandoned car. Mr Dewani had been released unharmed.
Mziwamadoda Qwabe, 25, and Xolile Mngeni, 23, are charged with murder, kidnapping and robbery with aggravating circumstances.
The trial in South Africa of Mr Qwabe and Mr Mngeni has been postponed until 1 June.
Taxi driver Zola Tongo, 31, from Bothasig, Cape Town, has been sentenced to 18 years in jail for murder, kidnapping, robbery with aggravating circumstances and perverting the course of justice.
Mr Dewani's extradition hearing was adjourned to 18 July.