'Sadistic' Bristol rapist Ross Parsons jailed for life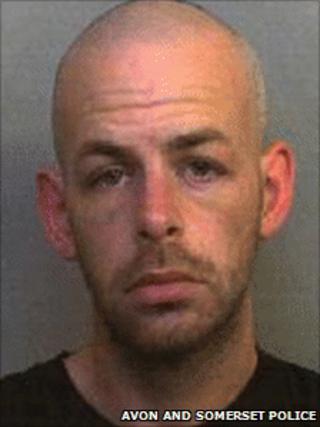 A man who raped a woman at knifepoint, stabbed her and set fire to her Bristol home, has been jailed for life.
Ross Parsons, 33, of no fixed address, pleaded guilty to attempted murder, rape, aggravated burglary and arson.
The victim fled naked from her home in Bedminster, Bristol, after the attack last October, which a judge described as a "calculated act of sadism".
Parsons was given three life sentences at Bristol Crown Court and told he should serve at least 12 years.
The court heard how Parsons was high on drugs when he broke into the woman's home in the middle of the night.
Collapsed lung
Prosecutor Michael Fitton QC said the woman woke to find Parsons at her bedroom door brandishing a knife.
During the attack she was bound and gagged and tied to the bed with electric cable flex before he set light to one of her T-shirts.
"She was forced to watch him drop it on the bed and as the fire took hold she felt the fire touch the toes of her feet," Mr Fitton said.
Parsons then stabbed her to the face and body. A small fragment of the knife blade was later found in her skull.
When she managed to break free, Parsons was waiting for her in the hallway and attacked her again. He also lit a second fire in the hallway.
The woman managed to flee the burning house shortly before 0530 GMT on 1 October and raised the alarm.
'Never went back'
She needed ten separate operations, including work on her lungs and plastic surgery, to treat injuries which police described as "life-changing".
Judge Neil Ford QC, The Recorder of Bristol, said: "In my judgment this was a calculated act of sadism, it was psychological, systematic torturing of your victim."
The court heard that Parsons had been out of prison on licence for little more than a week when the attack happened.
Parsons, who had entered the property to burgle it, was arrested following a two-day man hunt.
"That night left me with nothing," the victim said, in a statement.
"I left the house naked and I never went back.
"The scars will be a permanent reminder of what happened, and I will always have to explain to people why I've got them."
'Great courage'
Det Ch Insp Gareth Bevan, the senior investigating officer, said: "On the night in question, Parsons entered the victim's property and subjected her to a violent and sustained attack that has left her with physical and emotional scars.
"I would like commend the victim. She has shown great courage, bravery and determination to overcome what was an exceptional crime.
"I now hope the lengthy sentence passed today on Ross Parsons' gives her some closure."
In addition to the life sentence for attempted murder, Parsons was given another two life sentences for rape and aggravated arson, with a recommendation that he serve seven-and-a half years and six years.
He was also sentenced to six years in jail for aggravated burglary.