Keynsham Baptist Church explores Christianity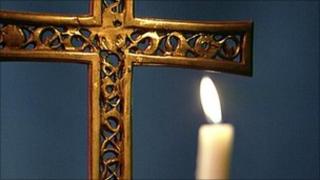 A church in Keynsham is opening its doors in a bid to "provide some of the answers" to the questions faith poses.
Keynsham Baptist Church is running public sessions called Christianity Explored this summer.
Baptist Minister, the Reverend Mick Standbridge said the courses were "designed to investigate Christianity and how it can affect our lives."
Various evenings are planned between 10 May and 28 June, including video sessions, reflection and discussion.
"It is easy to wait for people to come to us but we acknowledge that walking up the path and through the door for the first time is an enormous journey for some people," said Mr Standbridge.
"This series will be relaxed, without pressure or an expectation of continued church attendance unless all becomes clear and people wish to continue with our fellowship.
"We invite people to bring a friend so that in their mind they do not feel on their own."
All of the sessions start at 1930 BST and run until 2100 BST.