Bath aids first female race commentator search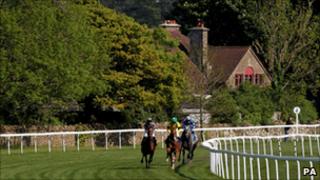 The historic Bath Racecourse has been chosen to help find Britain's first ever female race commentator.
The venue, which is celebrating its 200th anniversary this year, will host the first semi-final of a national competition on 11 June.
This nationwide search will see the winning female race caller commentating at Ascot on 24 July,
They will also win £2,500 and get a place on racing industry commentary training course.
Rod Street, from competition organisers lovetheraces.com, said: ''Horseracing is one of the few sports that connects with women.
"We're seeing increasing numbers of female trainers and jockeys competing at the top of the profession, so why not from the top of the grandstand in the commentator's box?''
Bath Racecourse is Britain's highest flat racecourse at 780 ft (238 m) above sea level.
During World War II it was used as a landing field by the Royal Air Force and named RAF North Stoke.
Talking abut the competition, general manager at Bath Racecourse Holly Glover said: "As a woman working in sport I'm really proud to be a part of this competition.
"Horseracing is one of the only sports where women can compete with men at the top level and the fact that it will be championing a national push to open up other careers in sport to women is fantastic."