HMS Gloucester crew stage final freedom march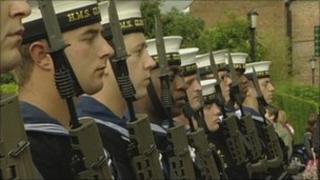 Up to 200 sailors from HMS Gloucester have been on parade in the warship's namesake city to mark the end of her service with the Royal Navy.
Hundreds of people watched as the ship's company marched for the last time before decommissioning next month.
The Type-42 destroyer arrived at Avonmouth near Bristol on Thursday for the start of a five-day visit to her affiliated area.
A special service was held at Gloucester cathedral after the parade.
Commander David George said the event was made particularly poignant by the attendance of the Duke and Duchess of Gloucester.
"They've added a bit more gravitas to what is a tremendously sad occasion," he said.
'City's sailors'
"It's gone absolutely like clockwork. Once again the city of Gloucester has turned out in force with all of their organisational skills and made it work for us."
He added: "Gloucester is a city that understands... that they have a namesake in the form of Her Majesty's ship and they know who we are, so when we come through the city they know that they are their sailors that are marching in front of them."
The silver casket, containing the Freedom of the City, was handed back to the city's mayor Jan Lugg.
"I think it goes back to the mayor's parlour and we will wait for the next ship called HMS Gloucester and doubtless, we will give it back to them," she said.
But the Admiralty said there was a trend away from naming ships after cities.
HMS Gloucester - one of the last four of the class to be built - was launched in November, 1982.
While docked at Avonmouth, HMS Gloucester is not open to the public, but has been hosting tours for school pupils, potential recruits and sea cadets.