Thefts of clothing bags hit Bristol charity's income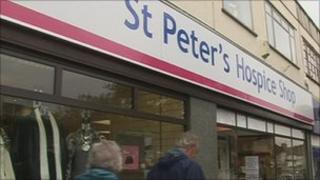 A Bristol charity is appealing for people not to leave unwanted clothing on its doorstep after a spate of thefts.
St Peter's Hospice said thieves were "making a killing" swallowing up the donations it relied on for its income.
Commercial Director, Andrew Hufford, said: "We are looking at any way we can to beat the thieves and protect a vital source of our income."
Mr Hufford said the thefts restricted its vital work in Bristol.
"It all adds up to a very serious drain on our shops' income and therefore restricts the vital work we can carry out for and on behalf of the people of Bristol," he added.
"Selfish thieves and bogus collectors are taking money out of the charity's pockets just as if they had stolen a collecting jar full of money from a shop or pub."
Mr Hufford urged people to either take their unwanted clothing direct to the charity's shops or to contact them to set up a special collection bin where they work.