Seven arrested in Bristol over firearm and drugs find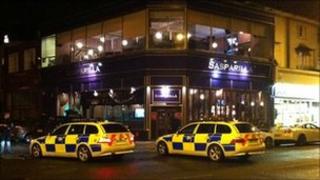 Seven people have been arrested and drugs and a weapon seized following a police operation in Bristol.
Two cars were stopped by officers in Whiteladies Road in the early hours of Saturday.
A 30-year-old man was charged with possessing a weapon after police seized a semi-automatic handgun.
A second man, a 32-year-old from London, was charged with possession of cocaine with intent to supply. Both remain in custody.
They are due to appear before the city's magistrates on Monday.
A woman from London, who was with the men, was arrested on suspicion of possessing a firearm and cocaine with intent to supply.
In the other car, two men and two women were arrested - including a 27-year-old from Cardiff who was detained on suspicion of possession of a firearm.
All five were released on police bail.