Japanese paintings saved by Bristol exhibition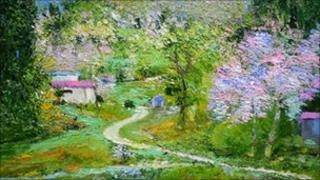 Paintings by a Japanese artist were saved from being destroyed in the Japan earthquake because they had been shipped to an exhibition in Bristol.
Some 24 oils by Ryoko Oikawa will go on show in The Grant Bradley Gallery, Bedminster, from 2 to 28 May.
Ryoko's son, Atsuhiko, said the family's home on a mountainside in Iwate was shaken by the giant quake which hit the country on 11 March.
The exhibition will be the artist's debut show in the UK.
"My mother feels that she was very fortunate to have sent her work to Bristol," added Atsuhiko, who is a research scientist at the Bristol Royal Infirmary.
Devastating tsunami
"If the paintings had stayed in Iwate, they would certainly have been damaged if not destroyed."
Award-winning artist Ryoko has held exhibitions of her work in China, Japan, France and Bangkok, where the Thai royal family described her as a "national treasure".
Albany Boulter, manager at The Grant Bradley Gallery, said: "We are delighted to showcase Ryoko's paintings - they are absolutely beautiful."
The gallery is situated in the former Bedminster Library, which was built by George Wills in 1914 at a cost of £10,000.
It was opened as a gallery by the then Lord Mayor of Bristol, Councillor Peter Abraham, in October 2005.
A magnitude nine earthquake struck off Japan's north-east coast in March, triggering a devastating tsunami.
Approximately 31,000 were killed, injured or are still missing after the tragedy.
In the town of Rikuzentakata in the Iwate prefecture, 2,000 of the 23,000 residents died and 80% of its 8,000 homes were destroyed.