Bath graduate who overcome dyslexia gets award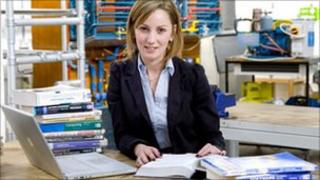 A Bath woman, who admits she was "a bit of a madam" at school, has achieved national recognition after overcoming dyslexia to gain a degree.
Fran Bunce, 25, has secured a top IT job in Bristol after completing her foundation degree in computing at the City of Bath College.
She has now received a national Adult Learners' Week 2011 award in recognition of her achievements.
The single mother had to juggle her studies while raising her daughter, six-year-old Summer.
"I couldn't believe that I'd won. It was a complete surprise but I'm delighted," said Miss Bunce.
"Going back to college was one of the best things that I've ever done.
"I've learnt new skills, have gained more confidence and found a job which I love and which has helped me to support my daughter."
'Destructive behaviour'
Fran, who did not have her dyslexia diagnosed until she went to college, said the condition often left her "really frustrated" when she was younger.
"I was a little bit destructive at school," she added.
"I had all the information but I just couldn't get it down on paper. I couldn't explain myself to people properly.
"Dyslexic people are very intelligent. They have it all there, it's just finding their way of getting it out."
Fran now works as a junior information systems engineer with Bristol-based Babcock Marine, a provider of engineering and support systems to the Royal Navy.
"Life is looking good now," she said.
"It means I can have some time with my daughter now, rather than studying and working."
Adult Learners' Week 2011 takes place from 14 to 20 May.