Stokes Croft riot-damaged Tesco due to reopen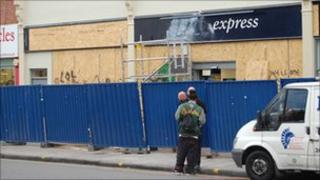 A Tesco Express store damaged during riots in Bristol is being repaired and will be reopened, the company has said.
Tesco has also met with the community's newly-elected Green Party councillor, Gus Hoyt, to discuss the recent unrest in the Stokes Croft area of the city.
Mr Hoyt said he would be calling for an independent inquiry into the cause of the protests before the shop reopens.
Police have also released more CCTV showing three men they would like to speak to in connection with the riots.
The street clashes happened on 21 and 22 April when police raided a nearby squat after fears Tesco was to be petrol bombed.
'Bow out gracefully'
Mr Hoyt said: "I want to see exactly what they [Tesco] have to offer and whether we can persuade them that the best thing as far as public safety is concerned is for them to bow out gracefully.
"I haven't called officially for an independent inquiry yet but I will be asking for one and I'm going to start investigating tomorrow which exact channels to go through.
"We've had two riots in the space of one week and the local community want to get to the bottom of what happened and move on."
A spokesman for Tesco said: "We are in discussions with the police and local representatives [of Stokes Croft].
"Our intention is and has always been to reopen the Tesco Express. We are repairing the store at the moment."
About 300 people were involved in clashes with the police in the street protests over the Easter weekend.
Violent disorder
Another protest took place in Stokes Croft a week later. It started peacefully but ended violently and both police and protesters were injured.
Avon and Somerset Police have already arrested 45 people in connection with the disturbances but are still trying to trace more.
Det Chief Insp Will White said: "We are determined to identify the outstanding offenders who have done extensive damage to the Stokes Croft area.
"We need the assistance of the public to do this and hope that these video clips and images prompt more people to come forward and help us bring the remaining offenders to justice."
Nine people have been charged with offences relating to violent disorder.
Stephen Farthing, 32, of Stokes Croft, is due to be sentenced at Bristol Crown Court on 17 May after he admitted violent disorder in relation to the first disturbance.
A 17-year-old youth from Bishopsworth, Bristol, has been charged with wounding with intent, violent disorder and theft.
Tesco have not said whether they are currently re-stocking the store or when they plan to reopen the branch.