Bristol Old Vic staging pirate ship show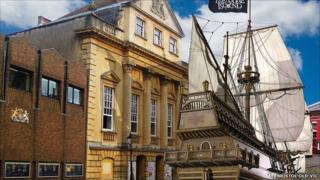 Pirates - once a familiar sight in Bristol - are set to make a return to the city this summer, complete with a ship.
The Old Vic is to site the 50ft galleon outside the 18th Century theatre building as an open-air stage for a production of Treasure Island.
The theatre has been undergoing major refurbishment for the past four years
The show will run from 7 July to 26 August and King Street will be closed to traffic during show times.
The harbourside area has many historic connections with piracy, with one pub in the street serving as inspiration for the fictional Admiral Benbow inn in Robert Louis Stevenson's original novel.
Old Vic artistic director Tom Morris said: "While the theatre itself is being refurbished, we thought we'd build our own 'New Theatre in King Street' to stage Treasure Island.
"It will be huge. It will seat 500 people.
"It will be as if a ship had been dragged up the street from the Welsh Back and docked at the front of the building."