Bristol's UWE wants to charge new students £9,000 fees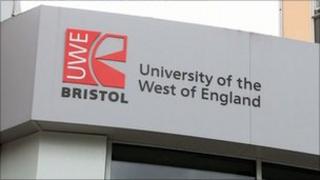 The University of the West of England (UWE) is planning to charge students £9,000 a year in fees from 2012.
It is the last university in the region to make the announcement to charge the maximum sum.
It will mean students whose family income exceeds £25,000 per year will be charged the top rate.
Vice chancellor Professor Steve West said UWE would invest £19m from the increased fees to "improve access and student support."
Students from low income backgrounds, care leavers, access students and disabled students will also be able to receive a support package worth £5,000 over their 3 years.
Professor West said: "We know that some very capable students still do not regard higher education as an option.
"If they have the potential to benefit our belief is that no student should miss out on the opportunity of a first class university experience.
"Our aim has been to make the investment to enable this."
Like all universities, UWE will have to seek approval for its fee level from the Office for Fair Access, with an announcement due in July.
President of UWE Students' Union, Colin Offler, said: "The Students' Union are still opposed to the funding system itself which still has number of ambiguities which have yet to be satisfactorily addressed by central government.
"A predominant concern has been that an increase in fees may lead to a decrease in the number of students from disadvantaged backgrounds aspiring to attend university.
"The Students' Union are therefore pleased to see that UWE are reinvesting so heavily in student support and widening participation."
In December 2010 students from Bath University protested to local MP Don Foster about the proposed rise in fees.