Royal harpist will play to Bristol hospitals' patients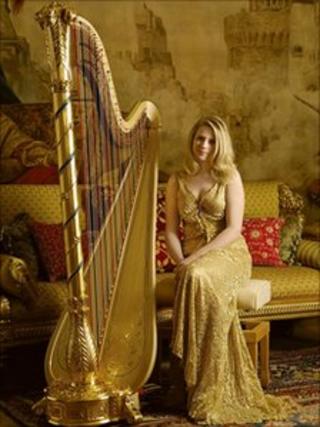 Prince Charles's official harpist, who performed at the royal wedding, is to play for hospital patients in Bristol.
Claire Jones, 26, will play at Frenchay and Southmead on 17 and 18 May as part of a 12-month programme of music "to enhance patient recovery".
Miss Jones played at last month's reception for William and Catherine, the new Duke and Duchess of Cambridge.
She was appointed by the prince in 2007 for a two-year period but was asked to continue for another two years.
One of her performances will be to expectant mothers in Southmead's antenatal clinic.
Miss Jones's visit is part of North Bristol NHS Trust's Fresh Music series, which runs until March 2012.
Performances will be staged on two days every month throughout wards, waiting rooms, restaurants and public areas at the hospitals.
The scheme aims to "create a positive healing environment" to support the physical and emotional recovery of patients.
Craig Yates, a member of Only Men Aloud, the winning choir in the BBC's Last Choir Standing, will sing on 18 and 19 October.