Bristol riot violence 'outrageous' says chief constable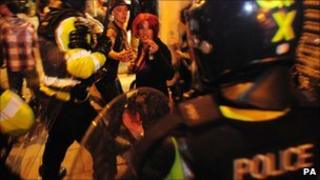 The Chief Constable of Avon and Somerset Police has defended the tactics used by officers during two riots in Bristol.
A disturbance began in Stokes Croft over the Easter weekend after officers raided a squat because they feared a nearby Tesco was to be petrol bombed.
Colin Port described the violence used against officers and members of the public as "outrageous".
"With hindsight" the operation could have been better planned, he said.
"Unfortunately people thought we were trying to evict people from a squat which we weren't trying to do.
"It was a hot summer's evening and things went badly wrong."
Mr Port said the officers who planned the raid on the squat made "sound operational judgements" but the actions of rioters later was wrong.
"To see the violence that was used not only against our officers but against members of the public. It was outrageous."
Avon and Somerset Police have already arrested 45 people in connection with the disturbances but are still trying to trace more.
Nine people have been charged with offences relating to violent disorder.