Council to decide over Bristol City stadium in a month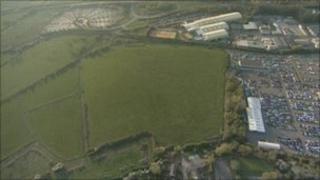 A decision which could thwart the new Bristol City FC stadium will be made in the next month, the city council has announced.
The club wants to build a 30,000-seater ground at Ashton Vale but some residents are opposed to the move.
An independent inspector backed plans for the site to be made into a town green - which would block any developments.
The council will make a decision on the site's town green status next month.
Bristol City FC has already gained planning permission from the authority to build the stadium on the Ashton Vale site.
Residents have claimed the site - which is owned by Bristol City boss Steve Lansdown - is used as a recreational area and want to protect it by gaining town green status.
Approval would mean the 42-acre site would be protected from development - and would thwart the Bristol City plans.
The new deadline for the decision was bought to a head after the Lib Dems lost seats in the May local elections.
The Conservatives and Labour would only back the party as a minority administration if they made concessions over the Ashton Vale stadium decision.
The council will now have to make a final decision based on the independent inspector's recommendation.
A controversial plan to sell off green spaces in Bristol is also being put on hold following the local elections.
A cross-party group will now examine the plan.