Bath council's Liberal Democrats take control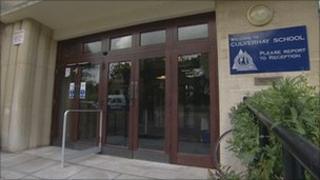 The Liberal Democrats have taken control of Bath and North East Somerset Council and said they will revoke a closure notice served on a school.
The authority (B&NES) was previously under Conservative rule but the party lost three seats to the Lib Dems in the local elections on 5 May.
It means both parties are tied on 29 seats but the Lib Dems have gained the backing of Labour's five councillors.
Several policies, including the closure of Culverhay School, will be reversed.
BRT scrapped
New council leader Councillor Paul Crossley told a meeting at the Guildhall: "On Monday morning we will start the process of revoking the closure notice on Culverhay."
He said a consultation would be held with the community on transforming the boys' school into a community co-educational establishment with a target date of the first intake of girls in September 2013.
Plans for the regeneration of Keynsham town centre, implemented by the Conservatives, could also be shelved and the building of a bus rapid transport (BRT) route will be scrapped.
Mr Crossley said: "This council and the public should be under no illusions. We support the concept of regeneration in Keynsham.
"However we do not believe that the council should act as developer and take all the risk."
'Scrutinising impact'
He said: "Over the coming weeks we will search for solutions to these issues and present a workable scheme that delivers regeneration."
Labour councillor John Bull said: "We've made it clear to Lib Dem councillors that where we agree with their policies we will support them and where we disagree we will oppose.
"We will be holding the Lib Dems to account and closely scrutinising the impact of their decisions on the people who rightly expect B&NES to serve them."
Conservative leader Francine Haeberling said she was "disappointed" with the Labour group's decision.
"Conservatives will be fighting to see the regeneration of Keynsham town centre go ahead as it is vitally important to economic growth in the town and wider area," she said.