Bristol rape victim's husband wants Ken Clarke to resign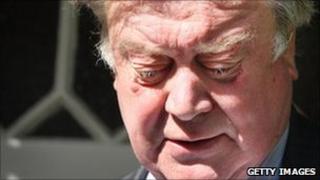 The husband of a woman who was raped in her Bristol home has called on Justice Secretary Ken Clarke to resign.
Richard Stockford's wife Helen, who has previously waived her right to anonymity, was attacked by a convicted murderer who had been released early.
In an interview on Wednesday, Mr Clarke appeared to suggest some rapes were less serious than others.
Mr Stockford said he should meet his wife before stepping down. Mr Clarke has rejected calls for him to resign.
A spokesman for the Ministry of Justice (MoJ) said it was in correspondence with Mrs Stockford.
Ritualistic features
Mr Stockford, 43, from Southmead, said the Justice Secretary's comments and proposals to halve sentences for rapists who entered early guilty pleas were "ludicrous".
"I definitely think it's time for him to go - but he should meet my wife first."
Mother-of-five Mrs Stockford, 41, was held captive at her home for three-and-a-half hours by Mark Shirley in 2008.
He raped and sexually assaulted her at knifepoint in an attempt to re-enact a murder with ritualistic features he had carried out in Cardiff 22 years earlier.
Shirley had been sentenced to life in jail in 1987, when he was 16, for murdering 67-year-old Mary Wainwright but was released on parole in 2003.
He was later twice recalled to prison but re-released in August 2008.
Seven months later he attacked Mrs Stockford.
Her ordeal was interrupted when her son returned home unexpectedly.
In November 2009, Shirley, then 39, was found guilty at Bristol Crown Court of rape, false imprisonment, serious sexual assault and committing false imprisonment with the intention of committing a sexual offence.
He was sentenced to a minimum of nine years in jail.
Mr Stockford said the couple had been seeking a meeting with Mr Clarke for more than a year.
He said they wanted to discuss the government's penal policies and a "lack of support" they believed they had received since the attack.
'Fed up'
He said letters to Mr Clarke from his wife had been passed to Crispin Blunt, the prisons minister, who had offered to meet her MP.
"I'm her husband and I'm fed up with how Ken Clarke is treating her," Mr Stockford said.
"He's blanked her all the way through. She should have had this meeting a long time ago."
The MoJ spokesman said: "We are continuing to correspond with Mrs Stockford and with her MP in order to address the concerns that she has raised."
Labour has called on Mr Clarke to step down following comments he made during an interview with BBC Radio 5 live about proposals to halve jail terms for people who plead guilty early, including rapists.
During the interview, Mr Clarke disputed reports that the average sentence for rape was five years and said that "serious rape" attracted a much longer term.
He was confronted on the radio phone-in show by sex attack victim Gabrielle Browne, who said his comments were "disgraceful".
Mr Clarke said he was simply describing a "long-standing factual situation" in which sentences differ depending on the circumstances of a particular rape.
But he said he would "choose my words more carefully in the future".
Mr Clarke has written to Mrs Browne to say he believes "all rape is extremely serious", adding: "I am sorry if my comments gave you any other impression or upset you."