Cribbs Causeway Concorde museum gets £840,000 boost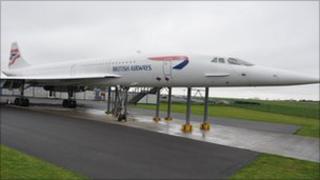 A museum planned in Bristol which would house the last Concorde to fly has been given a £840,000 cash boost by Airbus.
Plans for the £9m museum at Cribbs Causeway were first submitted in 2007 but building work has never started because of a lack of funding.
The proposed museum will also house the Bristol Aero Collection, as well as an education and learning centre.
The Bristol-based Concorde Trust has also applied for £2.9m of funding from the Heritage Lottery Fund.
That decision is due to be made in the next week.
In April, Airbus denied speculation that it was planning to move a Concorde exhibit away from the city.
The jet has been at Filton since 2003 and was closed to the public in October 2010 for maintenance.
Airbus has previously said it was committed to supporting a bid to build a permanent home for it in the Bristol area.
But BAE Systems, which owns Filton Airfield where the jet is based, is to close from the end of 2012, meaning a new home will soon have to be found for the jet.
The plane - called Concorde 216 or Alpha Foxtrot - was the last of the fleet to fly when Concorde was withdrawn from service by British Airways in 2003 due to increased running costs.
British Airways, which owns the plane, has handed over responsibility for the aircraft to Airbus.
Airbus said it had been carrying out extensive maintenance on Alpha Foxtrot, including weather proofing, skin panel repairs and corrosion removal work.
Other Concorde exhibits include at Manchester Airport, Yeovilton's Fleet Air Arm museum, Edinburgh, Heathrow Airport, Seattle, New York and Barbados.