Bath homeless artists' works on show at Bath Abbey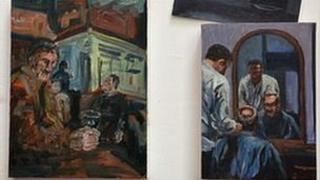 Bath Abbey is hosting an art exhibition displaying the work of homeless people.
Those behind the "Think Different" show said it aimed to challenge the "usual perceptions" people had towards people living on the streets.
Bath's homeless people have contributed an array of art work, including paintings, poetry and photographs, to the exhibition which runs until 22 May.
It has been supported by agencies including Shape Housing, Big Issue and Developing Health and Independence.
Kerry Headen, homelessness initiative manager, said the artwork should make everyone consider the artists' "circumstance and experience, and most of all, their potential".
'My salvation'
She said: "They've really enjoyed the opportunity to exhibit in a venue such as the Abbey.
"It gives them a purpose and a meaning to the art that they do as part of their support."
It is the second year Bath Abbey has held the exhibition.
A spokeswoman for the exhibition said they were aiming to challenge perceptions of homeless people as an "intimidating, street drinking or conspicuous group of people".
One of the artists, Alan Emerson-Smith, said: "Art has been my salvation, having brought me closer to family and new friends.
"I feel it will be with me for the rest of my life."