BBC Introducing in Bristol free live gig at Start the Bus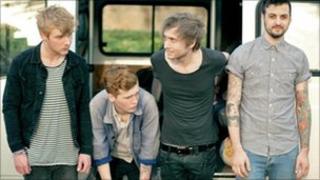 BBC Introducing in Bristol is hosting its first live music gig in Bristol on Tuesday.
Headlined by Introducing favourites Out Like A Lion, the gig at the Start the Bus music venue will also feature Bravo Brave Bats, Alice Jemima and a DJ set by Zoon Van Snook.
The four selected artists demonstrate the terrifically high standard and variety of music in the local area.
Out Like a Lion played on the BBC Introducing Stage at Glastonbury last summer and were given a boost recently after being picked by Chris Moyles for the Radio 1 daytime playlist.
'Passion for new music'
"BBC Introducing is amazing," said James from the band.
"They have helped us out so much, it's so exciting to see such passion for new music."
Out Like a Lion were first tipped for fame on the BBC Introducing in Bristol show - presented by Richard Pitt and Sam Bonham - back in November 2009 after the band uploaded their track Life at Sea to the BBC Introducing website.
"We owe so much to the guys from BBC Bristol for their constant support," James said.
Alice Jemima, who'll be opening the gig, has a recent accolade of her own to celebrate: she was recently chosen to play at the unveiling of the 2012 Olympic Rings at St Pancras.
BBC Radio Bristol Managing Editor, Tim Pemberton, said how pleased he was that the station was supporting great local music.
"The BBC Introducing programme is doing fantastic work in giving new artists the exposure that they need," he said.
Come down to Start the Bus on Baldwin Street, 8pm on Tuesday 24 May (FREE ENTRY).
All artists can be heard on this week's BBC Introducing in Bristol Show or on their respective websites.